North Down Borough Council is a Local Council in
County Down
in
Northern Ireland
.
A Belfast Metropolitan Borough, it's main town is
Bangor, and this is where t
he Council is headquartered at the picoresque Town Hall. Its secondary centre is the former Urban District of
Holywood
. Many more people live in suburban villages, along the southern shore of
Belfast Lough
.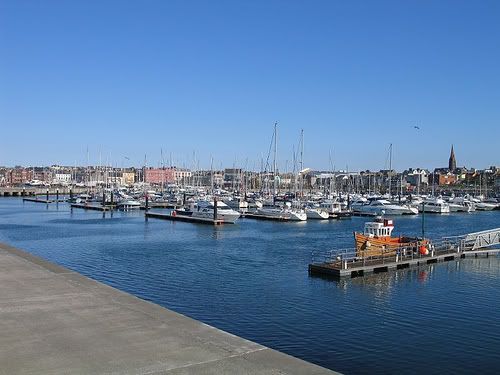 The Borough is heavily suburbanised, railway links with Belfast are good and the area has been the domain of well-heeled Belfast commuters since the mid-
19th Century
. The Borough is often held to be the wealthiest area in Northern Ireland, often refered to the 'the gold coast', although there are pockets of deprivation in a string of overspill public housing estates along the Bangor Ring Road.

The borough consists of 4 electoral areas: Abbey, Ballyholme and Groomsport, Bangor West and Holywood. In the
2005 election
25 members were elected from the following political parties: 8 Ulster
Unionist Party
, 8 Democratic
Unionists
, 6
Alliance
, 1
Green
, and 2 Independents.
The Borough of North Down was formed in
1973
in the local government reorganisation from the old Bangor
Urban District
, Holywood Urban District,
North Down Rural District
and part of
Castlereagh Rural District
.

In elections for the
Westminster Parliament
it is part of the slightly larger
North Down constituency. The current serving MP for the area is Lady Hermon MP of the Ulster Unionist Party.
__________
Photos used with permission.
posted by Cllr. D. Peacocke @ 1:09 PM,